---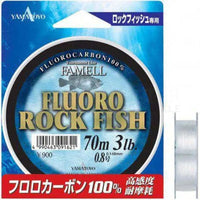 A 100% fluorocarbon leader line, developed exclusively for Rock fishing, by Japanese company Yamatoyo. Since its establishment, Yamato Yotegus has always been proud of its commitment to fishing line quality and pride as a fishing line specialist manufacturer.
The Famell Fluoro comes in 70m spools, in clear color and has excellent abrasion resistance properties and demonstrates its benefits when fishing in rough, rocky environments.
The Yamatoyo Famell has high sensitivity and is very soft to the touch. It is compatible with Rock Fishing reels and does not get tangled up easily.
| | | | |
| --- | --- | --- | --- |
| Diameter | Strength | PE | Length |
| 0.128 mm | 0.91 kg / 2 lbs | 0.6 | 70 m |
| 0.148 mm | 1.36 kg / 3 lbs | 0.8 | 70 m |
| 0.165 mm | 1.81 kg / 4 lbs | 1.0 | 70 m |
| 0.185 mm | 2.27 kg / 5 lbs | 1.2 | 70 m |
| 0.205 mm | 2.72 kg / 6 lbs | 1.5 | 70 m |
| 0.235 mm | 3.63 kg / 8 lbs | 2.0 | 70 m |