---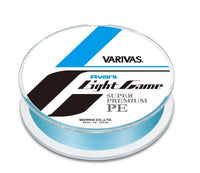 VARIVASAvani Light Game Super Premium PE 

Featuring the new "Super Premium PE" with maximum durability and strength! Additionally, the long-awaited 100m standard reel of the staple PE line for light games will be released!
●Thanks to the SP-PE (Super Premium PE) material, the line boasts stable strength and high durability even in thinner sizes.
●SP-V (VARIVAS' original special line coating) reduces friction with the rod guide and enables extremely long-distance casting.
※Our "Extra Coating Spray for PE" will help sustain the full effect of the SP-V coating.
●The 150m reel comes with 75m marks. Can be cut into the preferred length for any light game fishing.
*No markings on the 100m reel.
●Natural Blue color that excels in visibility and is resistant to stains and color loss.
Color:Natural Blue
| # | LB. | | 150m | BRAID |
| --- | --- | --- | --- | --- |
| 0.2 | 5 | | 150M | 4 |
| 0.3 | 6.5 | | 150M | 4 |
| 0.4 | 8.5 | | 150M | 4 |