---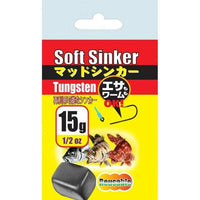 Tungsten Putty Soft Sinker Mud
Soft sinker made of Tungsten mud. A huge amount of uses, from fly fishing to hardbodies and lure tuning. Even add to your fishing line, hook, float, lure for tuning and customisation. A completely Reusable soft sinker!
Made of high quality tungsten mud material and is Non Toxic. Tungsten weight has excellent softness and flexibility, which makes it your own custom size and shape fishing weight. You can easily adjust the weight by adding and reducing the amount of putty on your line.
Tungsten is a good alternative to lead fishing sinkers as it's a non-toxic metal that is less harmful to fish, wildlife, lake and river ecosystems. This putty is re-usable and grips well to braid and mono.
When it hits the water, it makes a very natural sound and won't scare the fish away. It will be one of the most effective items in helping you catch fish in high pressure conditions. Its density is heavier than lead, but it can be easily shaped by hand.
Weight: 15g in pack.