---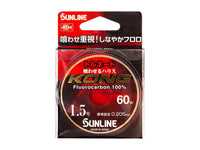 ●Highly supple, soft type fluorocarbon leader encourages fish to BITE! Can adapt to unexpected strikes and pulls from big ones.
●Soft but not too soft – can drift with the most complex of tides, achieving the ideal tension of a leader.
●Triple Resin Processing for better abrasion resistance against roots and rocks.
Draws in the bite! Supple fluoro!
■Length : 60m 
●Color:Natural Clear
100% Made in Japan
| | | | | | | | | | |
| --- | --- | --- | --- | --- | --- | --- | --- | --- | --- |
| Standard Dia.(mm) | 0.128 | 0.148 | 0.165 | 0.190 | 0.205 | 0.219 | 0.235 | 0.260 | 0285 |
| Strength(lb) | 2 | 3 | 4 | 5 | 6 | 7 | 8 | 10 | 12 |
| Line Size(#) | 0.6 | 0.8 | 1 | 1.25 | 1.5 | 1.75 | 2 | 2.5 | 3 |