---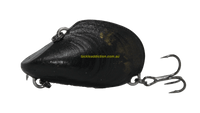 The most Popular Lure in 2023 - Clicker MUSS
Now available with integrated Glass rattle chamber, the clicker attracts fishes attention!
The Muss, Mussel Imitation is hand crafted in Western Australia to a meticulous standard.
this style of lure has revolutionised bream fishing and has proven itself as a big fish catcher. You will now find the Outback Breamer Mussel Vibe in thousands of tackle boxes across the country for good reason.
Complete with 2 x Decoy YS25 trebles
LIGHT: 4.8gm, Original weight mussel vibe. 1-3m, low/moderate current applications.
HEAVY: 5.8gm Heavy Mussel Vibe, Moderate to fast current applications