---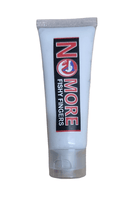 It doesn't matter how often you wash your hands following a fishing trip, a residual smell of fish seems to remain. Getting the smell of fish from your hands is an age old problem, particularly after handling fish all day.
Clean your hands with in 30 seconds with the new "NO MORE FISHY FINGERS
Apply liberal amount to the palm of your hand and rub into your hands, stand back and watch the smell disappear.
Perfect to keep in the car at the end of a days fishing
50ML Tube